Eureka Medical's Team – Founders and Board Members
Jeffery C. Conley – is President and Chief Executive of Eureka Medical. Mr. Conley has a consistent record leading high potential scientific technology companies into profitable growth. His experience combines medical device, biotechnology, pharmaceutical intermediates, polymeric membranes, nano-technology, antimicrobials and other scientific-based technologies.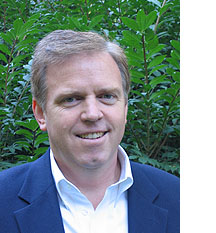 Mr. Conley has achieved high growth in leadership roles at major corporations in sales, marketing, corporate development, and general management. He brings extensive negotiation and transaction experience in licensing and M&A. His experience in M&A includes leading negotiations for complex hundred million dollar transactions for global scientific technology businesses. He has wide-ranging international experience, having lived and run businesses overseas. While living in London he grew a European Antimicrobials business from $2 million to $68 million in four years.
Mr. Conley has an undergraduate degree in Chemical Engineering and an MBA. Before taking the reigns of Eureka, Mr. Conley worked closely with Professor Clayton Christensen of Harvard Business School and Alfred Berkeley of NASDAQ, as CEO of an early stage company advancing the commercialization of a new medical device technology with a market targeting billions of people globally.
Professor Clayton M. Christensen is the thought leader on innovation and disruptive business growth at Harvard Business School is a founding board member of Eureka and has helped develop the medical invention evaluation criteria based on his in depth study and extensive consulting experience with innovation in healthcare.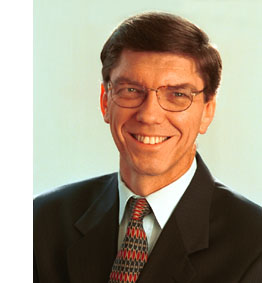 He is the Robert and Jane Cizik Professor of Business Administration at the Harvard Business School, with a joint appointment in the Technology & Operations Management and General Management faculty groups. His research and teaching interests center on the management issues related to the development and commercialization of technological and business model innovation. Specific areas of focus include developing organizational capabilities and finding new markets for new technologies. Professor Christensen holds a B.A. with highest honors in economics from Brigham Young University (1975).
Additionally, Professor Christensenan holds an M.Phil. in applied econometrics and the economics of less-developed countries from Oxford University (1977), where he studied as a Rhodes Scholar. He received an MBA with High Distinction from the Harvard Business School in 1979, graduating as a George F. Baker Scholar. He was awarded his DBA from the Harvard Business School in 1992.
Prior to joining the HBS faculty, Professor Christensen served as chairman and president of Ceramics Process Systems Corporation (CPS), a firm he co-founded with several MIT professors in 1984. CPS is a leading developer of products and manufacturing processes using high-technology metals and ceramics such as silicon nitride and silicon carbide. From 1979 to 1984 he worked as a consultant and project manager with the Boston Consulting Group (BCG), where he was instrumental in founding the firm's manufacturing strategy consulting practice.
In 1982 Professor Christensen was named a White House Fellow, and served through 1983 (on a leave of absence from BCG) as assistant to U.S. Transportation Secretaries Drew Lewis and Elizabeth Dole. Professor Christensen became a faculty member at the Harvard Business School in 1992. He then developed a course called Managing Innovation. Professor Christensen currently teaches an elective course he designed called Building a Sustainably Successful Enterprise, which teaches managers how to build and manage an enduring, successful company or transform an existing organization.
Professor Christensen is the author of the bestselling books The Innovators Dilemma (1997), which received the Global Business Book Award for the best business book published in 1997, and The Innovator's Solution (2003). His forthcoming book, Seeing What's Next, will be published in fall 2004. In addition, he edited two casebooks on Innovation: Innovation and the General Manager (1999) and Strategic Management of Technology and Innovation, 4th edition (2004). http://www.claytonchristensen.com/
Jerome H. Grossman, MD is a founding board member of Eureka and will be chairing the review panel of expert medical device and healthcare opinion leaders.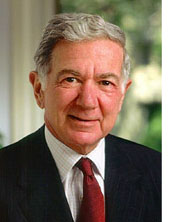 Dr. Grossman is Director, Harvard/Kennedy School Health Care Delivery Policy Program, Center for Business and Government, John F. Kennedy School of Government. Dr. Grossman's principal activity is as Senior Fellow and the Director of the Health Care Delivery Project. At his new position at Harvard, he will be bringing his expertise in the health care system and information technology, and his experience in community services to develop innovations and reforms in the medical care delivery system.
Dr. Grossman is Chairman Emeritus of New England Medical Center, where he served as Chairman and CEO from 1979 to 1995 and Professor of Medicine at Tufts University School of Medicine. Currently, he is an Adjunct Professor of Medicine at Tufts University School of Medicine and Honorary Physician at the Massachusetts General Hospital where he served full-time from 1966 to 1979.
Dr. Grossman was a member of the founding team of several health care companies, including Meditech, a medical software company, as well as Tufts Associated Health Plan, Chartwell Home Therapies, and Transition Systems, Inc., a medical care information management company. Named to the Institute of Medicine of the National Academy of Sciences in 1984, he has served as Chairman of four committees on issues concerning utilization management and guidelines. More recently he has served on the Committee for Quality of Health Care in America.
He was the first IOM member to Chair a National Academy of Engineering Committee on the Impact of Academic Research on Industrial Performance, and is now serving as Co-chairman of the NAE/IOM Workshop on Engineering and Health Care Delivery Systems. In 1999, he was appointed to the National Academies Council on Government-University-Industry Research Roundtable (GUIRR). Grossman also served as Scholar-in-Residence at the Institute in 1996.
While at New England Medical Center, he founded The Health Institute in 1988, whose work involves research and development programs and practical applications in the area of medical outcome, functional health status, the relationship of doctors and patients, and the relationship of the health status to other non-biologic factors in society-at-large, such as income and education.
He serves as a director/trustee of a number of organizations including: The Mayo Clinic Foundation, Penn Medicine (University of Pennsylvania Medical School and Health System), the Stryker Corporation, Landacorp, and the Committee for Economic Development. His past services include the Board of the Federal Reserve Bank of Boston from 1990 to 1997 serving as chairman from 1994 to 1997, Wellesley College and the Massachusetts Institute of Technology.
Edward A. Palank, M.D. – FACC, FACPE, CPE CPE is a prominent practicing cardiologist and author of The Golf Doc: Health, Humor and Insight to Improve Your Game. Dr. Palank has twenty-five years experience as a leading cardiologist. He was founder of the New England Heart Institute, and served on the faculty of Harvard and Tufts Medical schools.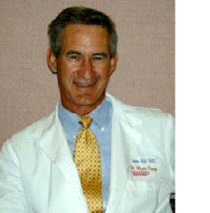 Dr. Palank is an accomplished administrator and medical business adviser. He served on the Board of Directors of American College of Physician Executives and the New England Heart Institute. He has also served as a regular medical advisor to leading medical device companies. He is a regular speaker on PGA America Programs and is on the Golf Digest Professional Advisory Staff. Dr. Palank is recognized as a national expert in the area of golf and health. "It is extremely exciting to think about the services that Eureka Medical provides to the medical profession".
"Early in my career I conceived of four different devices to improve the state of the art in cardiology. It took as long as ten years before I saw them independently commercialized. It would have been great to have a company like Eureka at that time to assist me in getting my product to market. The benefits to healthcare that could have been achieved more rapidly is compelling."
Edward A. Palank, MD.
Michael R. Collins is a Eureka Board member and leader of the leading innovation agent in consumer products, Big Idea Group, Inc. Mike Collins has been at the forefront of innovation his entire career. His skills include: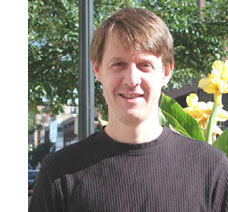 · Experienced in the development and execution of novel business models
· Background as a venture capitalist at some of the nations top firms: TA Associates
· Degrees in engineering (Dartmouth), and Business (Harvard)
· Successfully launched the Big Idea Group, the world's leading innovation network company
· Determined, resourceful, and entrepreneurial team leader
· Noted inventor
Mr. Collins founded Big Idea Group based on three influential inputs: his experience as a venture capitalist, his frustration as an inventor, and the academic research of Clayton Christensen of Harvard Business School. Combining observations, experience, and trial and error, Mr. Collins developed a business model that creates value from an incredibly valuable, but remarkably inefficient market: the world between independent innovators and innovation consuming companies and consumers. To Eureka, Mr. Collins brings a powerful experience with the business model, strong entrepreneurial drive, and a solid network of contributors.
He continues leading the Big Idea Group, Inc. as President and Chief Executive Officer and orchestrating the rapid growth at a pace of over 100% per year. Website: www.bigideagroup.net.
Read about Eureka Medical's Advisory Board.