Targeted Innovation Search
Companies looking for quick effective input from a network of highly educated, bright medical professionals and independent healthcare inventors find out Targeted Innovation Search Service is a powerful tool to confidentially:
Identify first mover products to establish leadership in rapidly changing markets.
Explore the viability of expansion into specific new market segments at low cost.
Cut cycle time of targeted new product development and gain speed to market.
Evaluate alternative product concepts before making a major investment.
Validating new product ideas fit with trends and real experience in the trenches.
Develop complimentary products for a major new innovation being developed by internal R&D departments, and
Expanding the capability of existing R&D resources at minimal costs.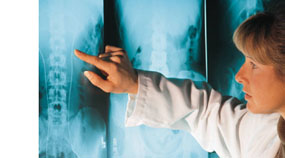 Corporate Sponsors are able to target new strategic segments for market expansion, increase their innovation bandwidth and conduct exploratory research with minimal financial commitment, high flexibility and immediate responsiveness to rapidly changing healthcare trends.
Leading business consultants have identified a unique strategy paradox required to achieve consistent high-profit growth. On the one hand, there is an imperative to consistently source "out of the box" innovative thinking for new product lines, while corporate focus is stressed as essential for superior execution. Achieving the appropriate balance between these competing imperatives is a challenging objective for most corporations.
Eureka's Targeted Innovation Search Services offers medical supply companies the opportunity to access disruptive innovative thinking that is completely unconstrained by existing product lines, current R&D projects and quarterly profit objectives of existing divisions. We can do this at minimal expense relative to traditional research and development and with much greater flexibility. One of the most important benefits we offer through our Targeted Innovation Search Service is an effective way to overcome the growth strategy paradox without distractions and losing focus.
Eureka's Targeted Innovation Search services offer veiled access to the powerful Eureka Medical Inventor Network to confidentially search for new medical device product ideas within a well-defined target market segment.
Corporate Sponsorship Services provides 1 to 3 specific Targeted Innovation Searches per year together with an exclusive first look at Invention Roadshow Ideas in the client's targeted area. Our Sponsorship Services also includes regular meetings to present and review new product ideas, consult on the innovation process, product development and identify market trends spotted by Eureka Medical that will impact the sponsor's targeted space. Sponsorship can be structured to provide world-class project management services to speed new product design and development through our relationship with the leading medical device design firms.
Contact our business development team to learn more about our unique Innovation Sourcing Services: BusDev@EurekaMed.com.