Ideally Suited for Medical Breakthroughs
Highly trained medical professionals who use healthcare products every day are ideally suited to conceive medical breakthroughs, yet they face a complex maze of challenges and staggering risks as independent inventors. The complexity stems form requirements such as: FDA approval, patent concerns, regulated procedures, clinical testing, channel availability, as well as resource and focus limitations inherent in medical practice.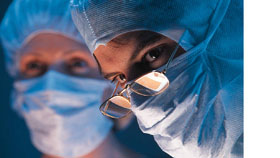 Most medical professionals are so busy performing their life enhancing and life saving services that devoting time and energy to developing and commercializing a new product is out of the question. In addition, it's typically very difficult for an independent inventor to gain access to innovation-buying companies.
Most large companies have a policy against accepting any idea submissions from independent medical inventors because of the legal complications. Trust can be another significant barrier to connecting people with great ideas to companies with channel access and commercial savvy. With the imbalance in power, independent medical inventors are appropriately reluctant to share innovations without legal protection and expert negotiation representation.
Eureka – Resource for Busy Medical Professionals
Eureka is a resource for busy medical inventors who are experts in their fields and need to focus their scientific expertise, medical training and creative genius where it adds the most value —developing medical breakthroughs. As an intermediary with resources, know-how, connections and dedication to medical device innovation, we at Eureka are ideally positioned to help Inventors with their medical breakthroughs.
Our panel of independent experts brings unique perspective and depth of experience from a wide variety of medical backgrounds to bear on the invention evaluation process.
Global thought leaders in medical innovation and healthcare delivery have developed the evaluation criteria we use. Eureka management, advisers, and contract partners bring expertise in healthcare innovation, product development, negotiation know-how, deal flow, product promotion, project management and access to world-class intellectual property, product design, contract manufacturing, and FDA regulatory capabilities. Eureka is ideally suited to represent inventors with world-class medical breakthroughs and simple inventions that allow labor savings, reduce risk of complications or accident prevention.
With a more intense focus on the quality of medical care and accident prevention in healthcare, we are enthusiastic about the potential for people in the space to conceive and deliver new product ideas that can improve the quality of healthcare delivery, eliminate the potential for errors and save lives.
Sign up to present your invention at: Invention Review Registration.
Our Model Synchronizes Risk to Reward = Win / Win / Win
The successful venture capital model targets only blockbuster product opportunities that can be supported initially by a single product application and requires a 15% to 20% success rate to payout for investors. This creates a risk reward balance and full time focus that is uncomfortable or unacceptable for most practicing medical people. Yet it is the primary avenue available for an independent medical professional to commercialize an invention.
In addition, single product start-up ventures are not the ideal channel for many of the new device ideas conceived in the profession. Just because a venture fails at commercializing a single medical device, does not necessarily mean that the product being commercialized was a bad idea. In many cases the new invention would likely have had a good commercial fit with a channel other than a single-product start-up venture.
Given these obstacles and inefficiencies, we are confident that there are at least ten value creating ideas lost for every one that is successfully commercialized. Our model is based on a win, win, win method. We are confident that our straightforward, direct commercial approach will capture value for all of our stakeholders. We find the best of the product ideas conceived in the medical profession and bring them to the medical supply markets to create value for the inventor, Eureka and our sponsoring companies and most importantly to enhance life.
Sign up to present your invention at: Invention Review Registration.
View Great Invention Advertisement published in medical journals across the world.
Helpful Links to Medical Inventors