Medical Inventors hold key to Medical Innovation
Eureka Medical is a leading innovation agent serving medical professionals; healthcare inventors and the leading medical device and healthcare supply companies. We are a resource to busy medical professionals and inventors who conceive great ideas for medical breakthroughs, but do not have the time to pursue them.
Eureka employs a unique set of innovation discovery tools to proactively attract the world's largest network of independent medical inventors. Eureka Medical was founded by thought leaders on innovation based-on a simple, but powerful concept: An organized, motivated network sourced from the millions of passionate, bright and highly educated medical professionals, will be a powerful force to identify medical breakthroughs and life enhancing solutions for healthcare.
Unleashing The Power of The Network Effect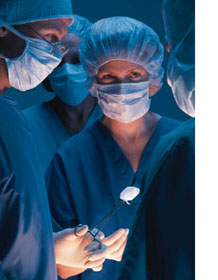 The Internet allows unique access and capability to rapidly connect thought leaders and confidentially share information on medical breakthroughs. Eureka's unique Invention Roadshow is a proactive method to bring together leading medical device innovators to share, evaluate, encourage and develop breakthrough medical solutions.
No group is better suited to identify the obstacles to performance in healthcare than the passionate people serving daily in the profession. The combined creative genius of thousands of bright, educated, inspired medical professionals -all connected through a network is a powerful source of innovation.
Medical Professionals with great ideas for new medical products are invited to join the Medical Inventor Network to enhance the exciting adventure of medical product discovery.
Connecting Innovation-Seeking Companies with Passionate Medical Inventors
The leading companies in the world recognize that new product innovation is the key to profitable growth and market leadership. Eureka offers companies a cost effective, confidential method to open a window on the realm of innovation, where innovation thrives -in the minds of bright inventive medical professionals and independent researchers who are passionately engage in serving and determined to solve the problems in healthcare.
Connecting innovation-seeking companies with passionate medical inventors to develop world-class medical solutions is the mission of Eureka Medical. We enhance the exciting adventure of medical product discovery.
Click Invention Review Registration to register to present your invention.
Click Corporate Sponsorship Benefits to learn more about opening the window to innovation.
View Great Invention Advertisement published in medical journals across the world.