SBIR Inventors Welcome
The Small Business Innovation Research (SBIR) fund is a program where 2.5% of the National Institute of Health's (NIH) extramural budget is dedicated for small businesses to engage in breakthrough medical research and development projects that have high potential for commercialization and providing medical solutions.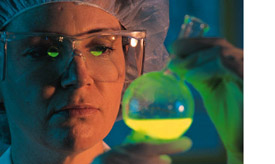 The NIH has a panel of experts who carefully review proposals from leading medical researchers and top medical device design and development talent in the country. The NIH then grants funding to the top researchers to advance the development of the most promising new medical device improvements and help jump-start the path toward commercialization.
SBIR Researchers – Ideally Suited for Medical Breakthroughs
Highly educated SBIR recipients are ideally suited to conceive medical breakthroughs, yet they face a complex maze of challenges and staggering risks for commercialization as independent inventors. The complexity stems form requirements such as: FDA approval, patent concerns, regulated procedures, clinical testing, channel availability, negotiation know-how, legal representation, as well as resource and focus limitations inherent in medical research. Often SBIR funded research companies run out of cash before they reach sustainable growth.
The SBIR sponsored inventors and researchers represent some of the brightest independent creative scientific and medical research talent in the world, yet commercializing a new technology requires broad commercial skills, marketing know-how and connections to corporations. Combining these skills would challenge the bandwidth of even the brightest individuals. Experience has shown that it is rare for any individual to maintain world-class capability in a demanding, fast moving, state-of-the-art technical discipline and at the same time develop and maintain outstanding commercial know-how and connections to the market. We have found it is important to pair the extraordinary technical talent with matching commercial capability to give medical breakthroughs the best chance for commercial success.
Most medical researchers are so busy performing their life enhancing research, that devoting time and energy to commercializing a new product is out of the question. In addition, it's typically very difficult for an independent SBIR inventor with a small company to gain access to innovation-buying companies. Most large companies have a policy against accepting any idea submissions from independent medical inventors because of the legal complications. Trust can be another significant barrier to connecting SBIR recipients with medical breakthroughs to companies with channel access and commercial savvy. With the imbalance in power, small businesses and medical inventors are appropriately reluctant to share innovations without legal protection and expert negotiation representation
Sign up to present your invention to our panel of experts at: Invention Roadshow Registration
Eureka – Resource for Busy SBIR Medical Researchers
Eureka is a resource for busy medical researchers and SBIR inventors who are experts in their fields and need to focus their scientific expertise, medical training and creative genius where it adds the most value —developing medical breakthroughs. As an intermediary with resources, know-how, connections and dedication to medical device innovation, we at Eureka are ideally positioned to help Inventors with their medical breakthroughs.
Our panel of independent experts brings unique perspective and depth of experience from a wide variety of medical backgrounds to bear on the invention evaluation process. Global thought leaders in medical innovation and healthcare delivery have developed the evaluation criteria we use. Eureka management, advisers, and contract partners bring expertise in medical innovation, product development, negotiation know-how, deal flow, product promotion, project management and access to world-class intellectual property, product design, contract manufacturing, and FDA regulatory capabilities. Eureka is ideally suited to represent SBIR inventors with world-class medical breakthroughs and simple inventions that allow labor savings, reduce risk of complications or accident prevention.
With a more intense focus on the quality of medical care and accident prevention and eliminating infection in healthcare, we are enthusiastic about the potential for SBIR Inventors to conceive and deliver new product ideas that can improve the quality of healthcare and eliminate the potential for preventable errors and enhance sterile conditions.
We understand the trends in the medical supply markets and are able to position breakthrough medical innovation to achieve a total solution approach that creates significant value and is attractive to the market leaders in medical supply, who have broad channel access.
Click Invention Roadshows for SBIR Inventors to learn more about presenting inventions.
Sign up to present your invention to our panel of experts at: Invention Roadshow Registration